Can you imagine a world without batteries?
How can you help inspire and educate the next generation about batteries?
Our Commitment to STEM Outreach
The challenges society faces in energy storage today will be taken up by the scientists and engineers of tomorrow. The Faraday Institution has trained over 70 PhD researchers as STEM Ambassadors. Our aim is to equip our community to inspire young people to consider careers in battery research, pursue STEM opportunities, and make an impact on the world we live in.
Research shows that we need to inspire young people by the age 10 about STEM careers through building science capital, fostering curiosity and showing the real-world relevance of skills learnt in school.
In British Science Week each year, the Faraday Institution take PhD researchers into local schools to raise awareness of battery careers.
It was nice to know that we were able to motivate the younger generation to get involved and maybe pursue a career in batteries."

PhD Researcher
Battery related STEM resources
As we race to solve the challenges faced in reaching Net Zero, the opportunities for young people to forge fulfilling careers in the battery sector and help to find pioneering solutions are abundant.
A wealth of high-quality, engaging, curriculum linked resources have been created.
The Faraday Fully Charged Battery Box
Created by Renee Watson of the Curiosity Box and former primary science specialist teacher Fran Long, for KS2 and KS3 upwards and is linked to the electricity curriculum. The box and in-depth teacher guide provide fun, 'hands-on' activities for a whole class, STEM club or after school groups such as Brownies and Scouts, that will foster curiosity, deepen thinking and inspire young people about battery careers.
Included in the box:
Electric art
Energy ball for human circuits
Lemon battery kit
Eco racers
Click here to purchase.
Tested by the Primary Science Teaching Trust (PSTT)
This is EXACTLY what we need! It's so topical, and the fact that it's all in one box is so useful!"

Primary Science Teacher
I loved how I wasn't told the answer straight away and it made my brain really think."

Primary School Pupil
The Royal Institution event 'For Your Inspiration: Powering our sustainable future.'
Aimed at 13 – 17 year olds, but accessible to a wide audience, the recording of the event gives listeners the opportunity to learn about the need for better batteries alongside showcasing the range of skills that can contribute and career opportunities available. Join Fran Long, Head of Training and Talent Development at the Faraday Institution, Dr Billy Wu Senior Lecturer at Imperial College London and a panel of PhD researchers for an engaging exploration of the world of batteries.
Click here to watch.
Build your own voltaic pile
The very first battery was made by Alessandro Volta back in 1800 and he later gifted an example of this chemical battery to Michael Faraday that is still in the Royal Institution Collection in London today. It is made up of a stack of plates of two different metals on a wooden base, held in place by three glass rods and sandwiched with blotting paper.
Find out how to make your own voltaic pile with Jan Oledzki here.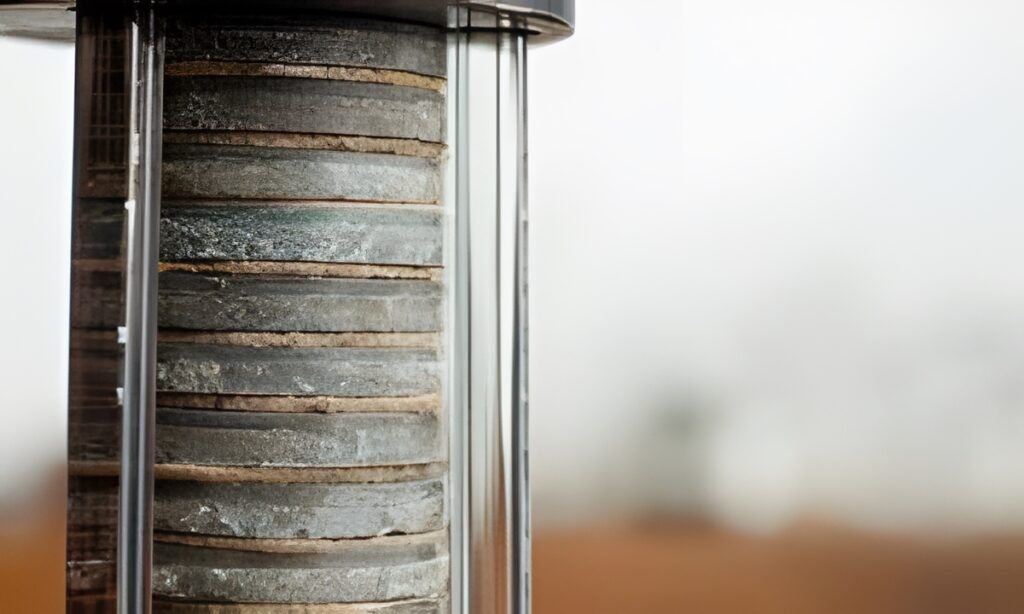 Battery cake
The type of battery that is currently used in mobile phones, laptops and electric vehicles is a lithium-ion battery. Ever wondered what is inside a lithium-ion battery?
View the series of infographics
Battery cake infographics designed by Sophia Constantinou, Digital and Social Media Co-ordinator at the Faraday Institution (chemistry graduate and former FUSE undergraduate intern), with additional infographics by Zoe Wright (Faraday Institution PhD researcher and former FUSE undergraduate intern). 
Want to learn more? Listen to the 'Battery Bakery' podcast (9 minutes)
Build a battery card game
Designed as a secondary school resource, recommended for KS4 (as GSCE curriculum linked), it can be adapted for younger and older age groups.
This resource will cover:
The structure of a chemical cell
Redox reactions occurring in chemical cells
Aspects of the life cycle assessment: mining and recycling of materials
Jobs and opportunities linked to the battery sector as part of the Gatsby benchmark for good career guidance
Information on a range of materials covered in the GCSE specification
Curriculum subjects covered: Science (Chemistry and Physics), PSHE.
Click here to download
Designed by Catie Kohler (past FUSE intern) 
Crunchie Bar Batteries
Did you know that worldwide, more than 3 billion batteries are thrown away each year?
Scientists and engineers at the Faraday Institution are working to find effective ways to recycle lithium-ion batteries including those from electric vehicles.
Faraday Institution PhD Researchers Beatrice Browning and Rosie Madge have created 'hands-on' experiments aimed at KS2 and KS3 pupils and students, using a Crunchie Bar, to demonstrate the different methods used to separate precious battery materials.
Click here for the resources.
Discover what it is like to work on battery research
Hear from Dana Thompson about what she enjoys and how she is contributing to a more sustainable future.
Battery Jenga
Award winning battery scientist Lizzie Driscoll and the team at the University of Birmingham have used specially adapted Jenga sets to illustrate how rechargeable lithium-ion batteries work.
For further details click here.
If you would be interested in obtaining a set or booking a demonstration, contact Elizabeth Driscoll.
Battery Guinness World Records
How many lemons do you think were needed to create the highest voltage lemon battery?
Back in 2016 Professor Saiful Islam presented the Royal Institution Christmas Lecturers all about batteries. Watch here for fascinating facts and demonstrations:
The Big Bang Fair and battery careers
The Big Bang Fair is the UK's biggest celebration of STEM for young people. Check out the Big Bang Fair video featuring Faraday Institution PhD Researchers talking about their careers.
Global Battery Experiment
Take part in the Royal Society of Chemistry's Global Battery Experiment in 2022. Aimed at 9-14 year olds, this is a chance to further explore the science behind batteries and why they are such an important part of our bright energy future.
For more details click here.
Behind the Lab Specs
Behind the Lab Specs is an interview series currently focusing on the individuals involved in the (Li-ion) battery industry. The project began in June 2021, where Faraday Institutions interns: Zoe Wright, Emily Hanover and Hannah Blakiston (University of Birmingham) got the camera rolling.
Watch the videos here.
Partner organisations and collaborators