ReLiB: Recycling and Reuse of EV Lithium-ion Batteries
The transition to electric vehicles (EVs) brings challenges and opportunities associated with the need to manage projected volumes of around 28,000 tonnes of EV lithium-ion batteries needing recycling by 2030, rising to 235,500 tonnes in 2040. To cope effectively with these volumes, vast improvements in the speed, environmental footprint and the economics of recycling processes will be required, not least as the security of supply of critical materials is becoming an ever-increasing priority for Government. To this end ReLiB is developing recycling technologies that will put the UK at the cutting edge of research & development whilst also building the industrial capacity to underpin the transition to EVs.
ReLiB's vision is to provide a UK EV battery recycling industry with a pipeline of scalable technologies that are responsive to regulatory drivers, new battery designs and chemistries, and the opportunities afforded by Industry 4.0.
Over the next 2 years the project aims to develop - and scale - the following technologies:
cathode leaching to industrial level.
upcycled electrode materials used in new cells.
binder recovery (where there is an economic or regulatory rationale to do so).
biorecovery of materials, g., metals from plastic EV battery waste, from secondary waste solutions – 'zero waste'concept.
data informed recycling routes based on digital diagnostic tools that can interface seamlessly with battery data passports to assess the batteries key recycling indicators.
batteries designed and manufactured with consideration for recycling.
identification of new research topics that fit with changing battery design and chemistry systems and regulatory drivers.
Timeline with milestone/deliverables (March 2025)
Demonstration of effective leaching from generation 1 end-of-life EV batteries.
Development of a cell-dismantling route for recovery of materials from end-of-life battery cells as an alternative to shred and sort.
Routes for short loop and/or direct recycling of common cathode materials, including upcycling.
Evaluation of optimum methodology for recovery and reconditioning of current and future anode materials.
Scale up of selective metal bioleaching processes using natural and bioengineered bacterial strains.
Production of remanufactured cells from recycled materials for long-term cycling and investigation of causes of failure.
Project innovations 
Unlocking safe, cheap and environmentally benign routes for the separation, recovery, remanufacture and recycling of materials contained within EV batteries is critical to the success of the EV revolution and the sustainability of manufacturing supply chains. The project will achieve this through direct targeting of fast, efficient dismantling processes to boost productivity and safety within the waste and recycling sector. This will provide high-purity and high-value recovered material streams, maximising the environmental gains of the transition to EVs.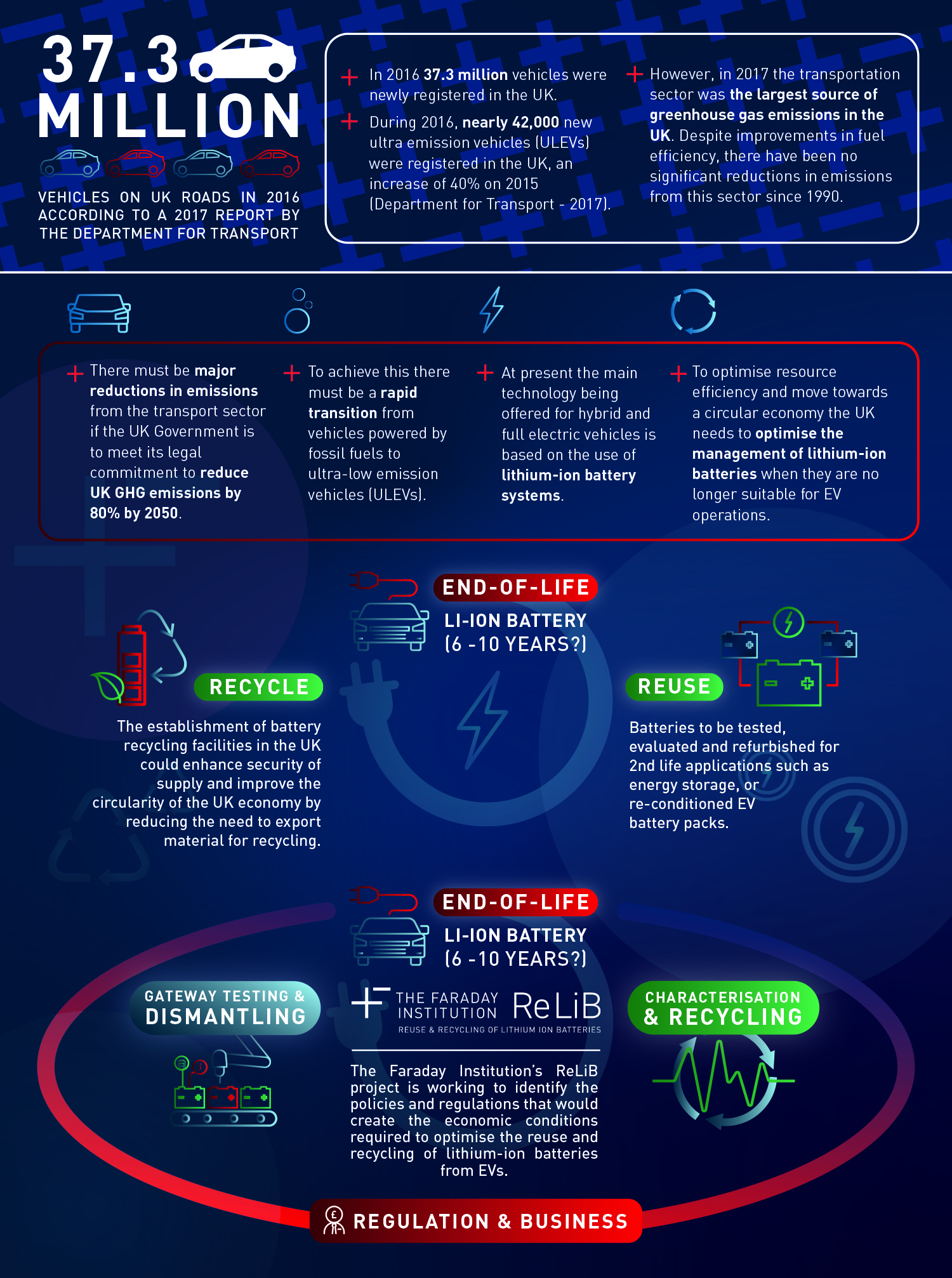 One of the Faraday Battery Challenge Round 5 projects awarded in January 2023 was REBLEND, which aims to further develop three processes to directly recover valuable cathode active materials (CAM) from production scrap and end of life automotive and consumer batteries for reuse in automotive batteries. The project is led by Ecoshred, with University of Leicester, University of Birmingham, Minviro, Iconichem Widnes, Watercycle Technologies, Ecolamp Recycling, and Cornish Lithium. It combines novel delamination, magnetic, electrostatic and membrane separation techniques, developed as part of the Faraday Institution's ReLiB project.
Project funding
£18.5m
1 March 2018 - 31 March 2025
Principal Investigator
Professor Paul Anderson
University of Birmingham


Project Leader
Dr Daniel Reed
University of Birmingham
University Partners
University of Birmingham (Lead)
University of Edinburgh
University of Leicester
Newcastle University
University College London
Imperial College London
Research Organisations, Facilities and Institutes
20 Industrial Partners