Transport is currently the largest source of greenhouse gas emissions in the UK. To meet legal commitments to reduce emissions to Net Zero by 2050, major reductions are required. To meet government's aim of moving towards a more circular economy, keeping resources in use as long as possible, minimising waste and promoting resource efficiency, the infrastructure for managing lithium-ion batteries when they are removed from electric vehicles (EVs) must be developed. The project aims to ensure that the UK has the facilities and regulations required for the safe, economic and environmentally sound management of the materials contained in lithium-ion batteries at the end of their first life and so enhance the overall efficiency of the raw materials supply chain.
Objectives
ReLiB aims to devise and develop alternative recycling routes that could provide UK businesses with a competitive advantage. The project is using a range of physical, chemical and biological techniques to separate and recover the materials contained in the full range of battery compositions currently in use.
Success will be demonstrated by the construction (through a collaboration between the partner universities, local authorities and industrial partners) and patenting of demonstrator plants that can:
Strip down the whole battery more safely and much faster than present techniques allow.
Reduce environmental impact by minimising the use of chemicals.
Minimise human intervention by using advanced robotics to automate most processes.
Recover a high proportion of the original materials in a reusable form.
Maintain high value materials streams to improve the economics of recycling.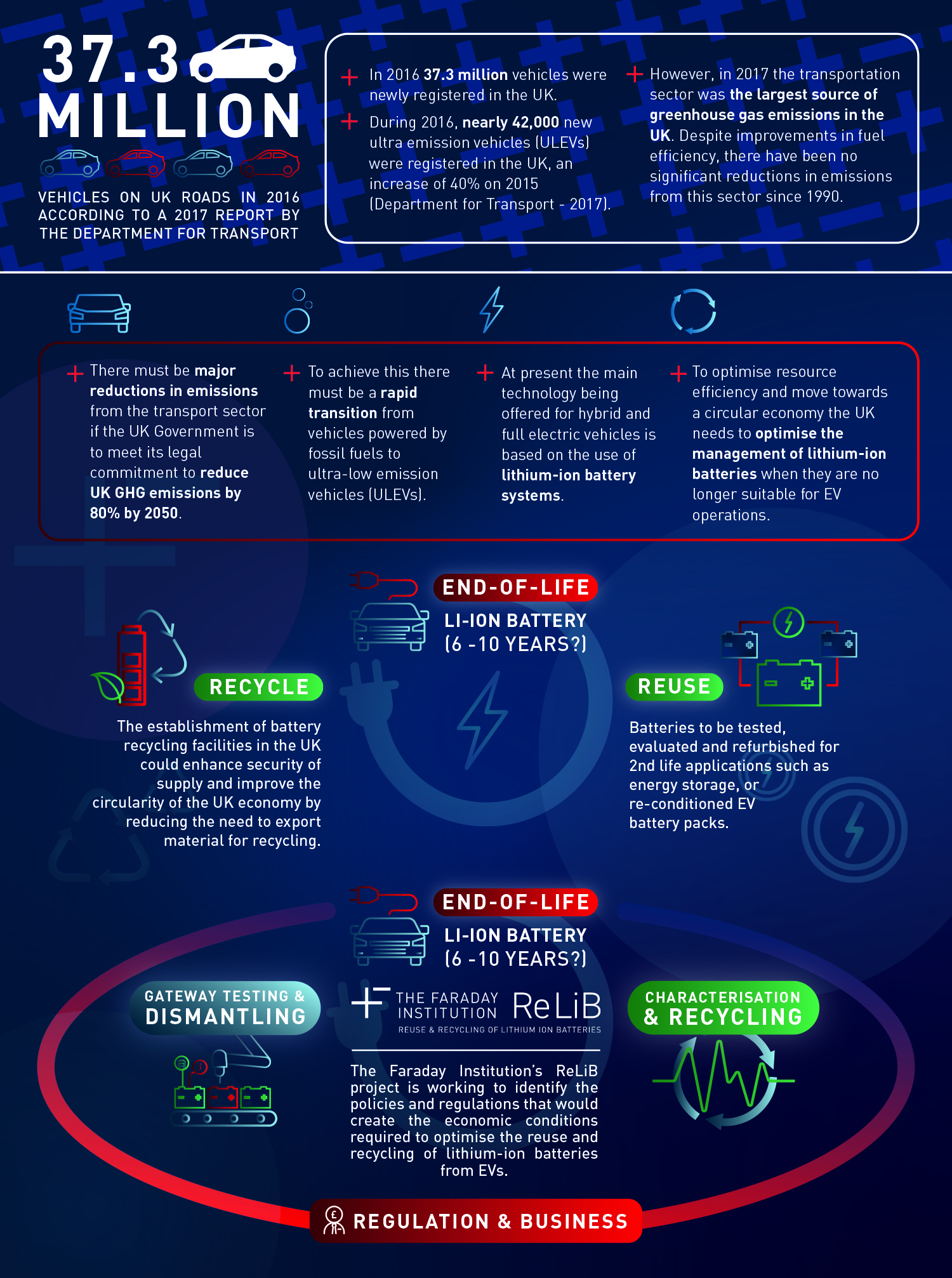 Project funding
£14.1m
1 March 2018 - 31 March 2023
Principal Investigator
Professor Paul Anderson
University of Birmingham

University Partners
University of Birmingham (Lead)
University of Edinburgh
University of Leicester
Newcastle University
University College London
Research Organisations, Facilities and Institutes
Diamond Light Source (STFC)
UK Battery Industrialisation Centre (UKBIC)
+15 Industrial Partners
NEWS FEEDS / SOCIAL MEDIA